New Pathway Dental Clinic
A lifetime goal and dream came true in June 2022, as we opened our new sophisticated, state-of-the-art Pathway Dental Clinic at 110 Riccarton Road, Christchurch.
After many years in design and planning and 6 months with builders on-site, we proudly opened a new dental practice unlike any other on the South Island. Even Covid setbacks and rising costs could not stop the opening of our six-clinic facility, which has been designed with your comfort in mind.
The new clinic is a few doors further along from our original Riccarton Road base but is light years ahead in design, function and scale.
New dental clinic design
The clinic was designed by owner Tu Nguyen and his architect, with the sole aim of creating an exceptional space for patients. The focus is on comfort, relaxation and quality. We are known as 'The Gentle Dentists' and this space reassures patients they have come to the right place. It feels and looks like a 5-star hotel when you enter the beautiful reception. The quality of the design reflects the quality of the dental service we work so hard to provide.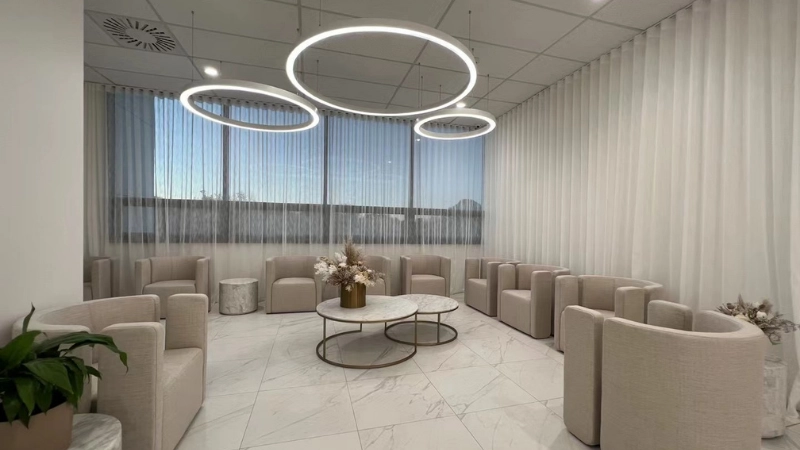 A warm and welcoming patient waiting area awaits.
Collaborating with German dental equipment manufacturers, Dentsply Sirona, all the rooms are fitted with custom-made equipment. Every single aspect has been well thought out and is brand new. We didn't move one chair or one item of equipment from our old clinic.
Patient experience is foremost in our design. You can choose your favourite Spotify music or watch Netflix or Amazon Prime from your dental chair. Each of the six dental rooms has independent speakers and many options for each patient. Your dental chair is adjusted as you like it at your first visit, and details of your chair height, tilt and position are stored for future visits.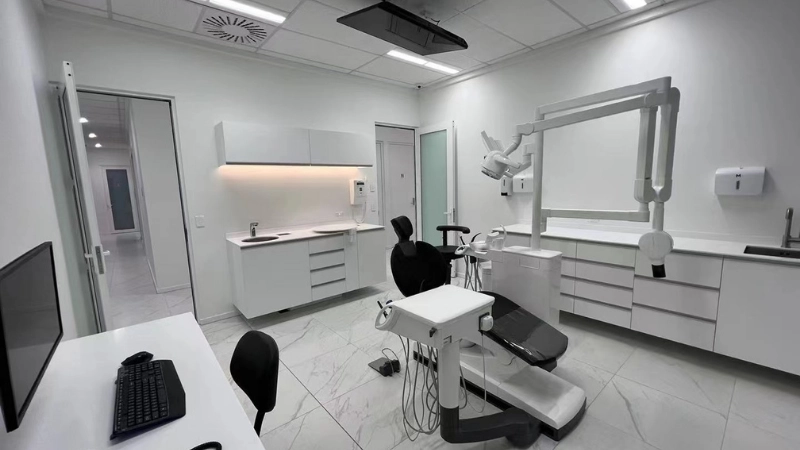 6 state-of-the-art treatment rooms are fitted with custom-made equipment.
The detail of design and function is quite exceptional. From the chair stitching to the fully integrated work area for our dental professionals, Pathway Dental is now the premier dental practice in the Christchurch region.
High-tech treatment rooms
Four of the main dental treatment rooms have been fitted with an air exchange system, which is independent of the air conditioning unit. This means fresh air is pumped in and contaminated air is extracted, to provide a more sterile environment on a room-by-room basis. If we face another pandemic-like situation, it means the stand-down time between treatments is just 10 minutes and we can continue to help our patients. Without this exchange system, stand-down time would be 45+minutes.
With Covid restrictions on supplies, the build process was extra complicated. To ensure minimal building delays, all supplies had to be purchased ahead and stored. The white marble floor tiles have their own story. We literally had to buy every tile of this design available at the time on the South Island, to get enough to complete the floor.
Scale is one word you will appreciate when you visit us. We could have squeezed in more dental rooms, and made the corridors tighter and the reception smaller. Instead, it was a very conscious move to give our team and patients the quality space they deserve. With the latest technology, we can give a better diagnosis, which means better treatments and outcomes. All delivered in a luxurious, high-end dental clinic that puts patient care at the centre of everything.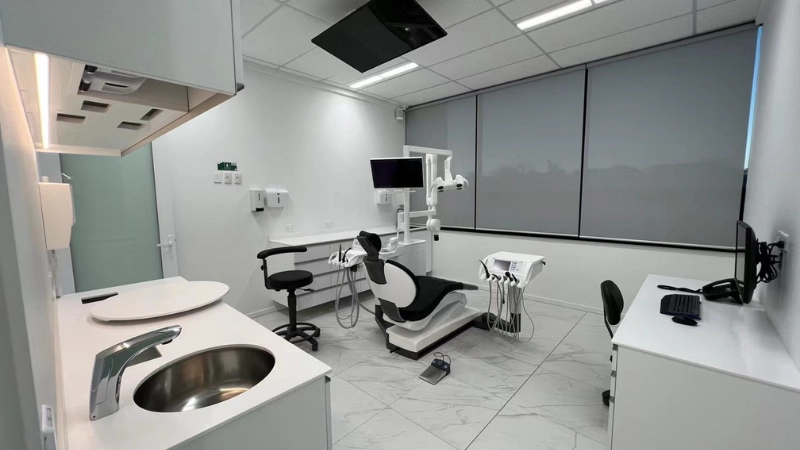 Our treatment rooms are spacious and designed for patient comfort.
All of this is provided at no extra cost to our patients. We haven't increased our prices, we've simply opened an exceptional, high-quality dental practice. We invite you to visit us to see for yourself.
Find our new dental clinic