At Denture World, all our quality dentures are handcrafted on site. We take great care and will work with you to ensure you are 100% satisfied with your new dentures.
Call us on 03 366 8866 for a complimentary consultation.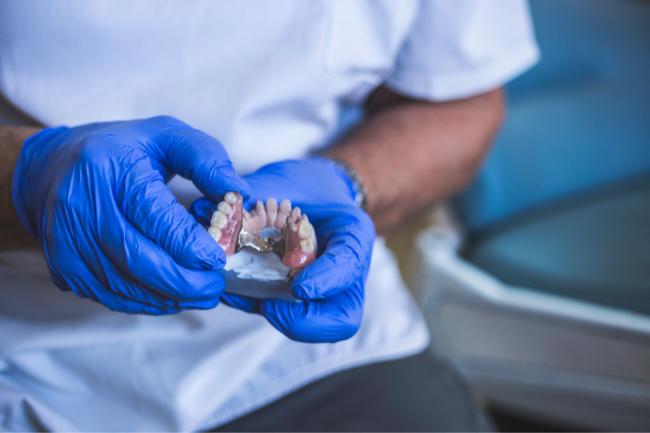 Dentures (full or partial) are artificial teeth that can be taken out whenever you want.  Full dentures replace all the teeth in an upper and lower set, or just the upper or lower row of teeth. Partial dentures are segments of teeth, or a single tooth, that has been set into a framework and held in place by clips or a bracket. The partial denture is similar in construction to a dental bridge.
Full dentures have an artificial gum that covers your real gum. Artificial teeth are then set into the replica gum, and you put the complete structure into your mouth. The result is a set of teeth that look and function like a real set. Some people take a while to get used to dentures, but repeated use 'settles' the teeth in quickly. You will need to develop some new habits, but they will soon become a normal part of your life.
False teeth are cared for the same way you care for your natural teeth – with good oral hygiene. They need to be cleaned twice daily and flossed regularly to ensure food debris is removed from the crevices. They are delicate and may warp if placed in hot water. They should always be treated with care, in and out of your mouth.
Dentures are often the last resort for many people, as teeth may have to be removed in order to make a comfortable fit. There are other options available if you are only missing a few teeth, but sometimes full dentures is the only option in order to provide you with a full set of teeth and a healthy smile.
We specialise in full and partial dentures for any age! To schedule an appointment, give us a call on 03 366 8866, or request an appointment online.
Quality Dentures Made on Site
Denture World is our denture clinic, run by Bara'a Toubat, and is where we create dentures onsite. So whether your existing dentures are ill-fitting or you just want a new cosmetic look, we can help.
Bara'a Toubat, our Clinical Dental Technician is experienced in making all types of dentures including; full or partial dentures, standard, cosmetic, precision implant-supported dentures or immediate dentures.